Today's transformation just might knock your socks off. It did mine. Usually I can whip up these adjustments in under 2 hours. Not today. It took me all day. My poor sewing machine and I got in an awful fight, and I almost gave up! The humidity outside didn't help at all. All around frustrating. That is until I finally finished and looked in the mirror!!! Here we go…
I'm loving the new ankle-pant look. It's so stylish and perfect for shorties. They go great with practically any style of shoe. I really like pants that can help me pull of the shirt tucked in & un-tucked, always a plus. As usual, I am completely unwilling to pay what these places are asking. Mrs. El Cheapo.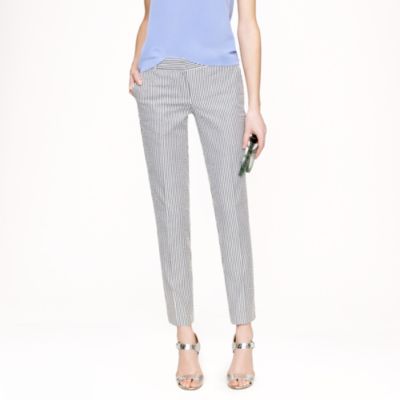 I have several pairs of pants in my wear-no-more pile. These pair have been in my closet for a few years, collecting dust. I think I wore them once, and now I'm embarrassed people saw me in public like this. They are made by Tracy Evans & supposedly a size 1. No way are these puppies a 1!!
After hours & hours. Headache upon headache. A coke, a cookie, and an episode of Gossip Girl…
Even though there are a few imperfections, and I might need to make a minor adjustment later, I'm VERY happy with the turnout. I love that they fit!
Thoughts? Leave a comment!
(Don't forget to follow my blog via e-mail…in the column to the right >>